The RCC is a platform promoting disaster and climate-resilient development through regional dialogue, peer advocacy and exchange of expertise among policy makers and international organizations across Asia and the Pacific.
On the theme of Enhancing Regional Cooperation and Coherence for Resilient and Inclusive Societies, participants of the 15th RCC meeting explored practical approaches for achieving Target E of the Sendai Framework for Disaster Risk Reduction and identified means to enhance the implementation of gender-equal and rights-based approaches to disaster risk reduction and climate resilience.
Find out more
REGIONAL COOPERATION
Over the years, the RCC mechanism has facilitated dialogue around complex issues through its strong convening power to create an enabling environment for participants to showcase progress as well as discuss challenges towards a shared common goal of building resilience to the increasing impacts of disasters and climate change across the region.
The mechanism, guided by the critical component of knowledge and information sharing to strengthen regional cooperation, is continually evolving to identify opportunities to facilitate dialogue around key development priorities across the region.
Read More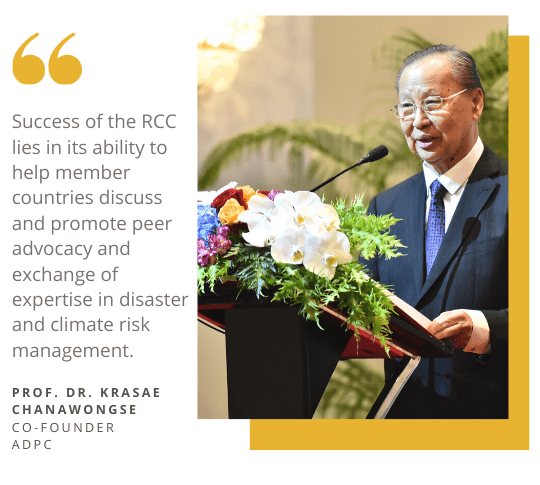 RCC SECRETARIAT
Asian Disaster Preparedness Center, as Secretariat to the RCC, supports in bringing together member countries and organizations working across various sectors, audiences and disciplines to address different aspects of disaster risk. The RCC member countries also provide key inputs and guidance, through identifying disaster-related needs and priorities, to shape ADPCs governance strategy.
Read More