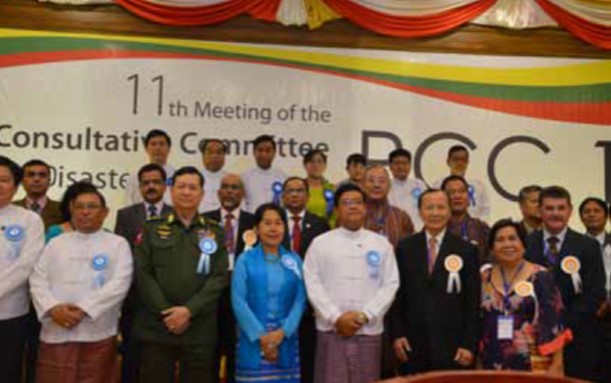 RCC 11: Reducing Disaster Risk and Transforming Development

Venue: Nay Pyi Taw, Myanmar
Dates: April 1–4 2014
Graced by: H.E. U Nyan Tun, Vice President of Myanmar
Co-hosted by: Relief and Resettlement Department (RRD), Ministry of Social Welfare, Myanmar
Member-countries in attendance:
Bangladesh, Bhutan, India, Lao PDR, Maldives, Mongolia, Myanmar, Nepal, Pakistan, Philippines, Sri Lanka, Thailand, and Viet Nam


Objectives of the 11th RCC:
• Achieving mainstreaming by using risk information to transform development policy, planning and institutions;
• Striving for impact through improved monitoring and reflective practices on mainstreaming;
• Gearing regional efforts towards mainstreaming and transforming the post-2015 development agenda.
A key discussion point of RCC11 was that risk assessments ought to consider psychosocial and disability information. There was broad agreement on the need to enhance the production of risk information, including data-sharing and risk information sharing for improved mainstreaming.
During the conference concerns were raised about how to separate budget lines for DRR. Pakistan was given as an example and discussed the importance of monitoring impacts and baseline information under the country's Disaster Management Act which seeks coherence among provincial and district authorities. Reiteration of the importance of local knowledge was also given.
The absence of land use planning in the DRR discourse was given as a concern. Participants also recognized the need for climate-smart DRR, which integrates CCA and DRR, through institutional mechanisms. There was general agreement expressed regarding the need for CCA and DRR concerns to be considered in future development agendas. Participants also recognized that DRR can enhance sustainable development in terms of institutional mechanisms and implementation. It was concluded that DRR is a fundamental element to enhance sustainability and resilience.
ADPC suggested the introduction of a government body to provide definitive disaster data. There was a call for improved risk information sharing mechanisms and increased regional cooperation on this. The constraints of community level information providing information to policy-level actors were also discussed.
During the RCC, countries and development partners were able to discuss experiences, concerns, lessons and needs for mainstreaming DRR and CCA into development. ADPC as the Secretariat of the RCC drafted the Nay Pyi Taw Statement with input from the member countries. This statement was endorsed in the final session of the meeting and is the principal output of RCC11, and will be utilized in subsequent regional meetings for DRR such as the Asian Ministerial Conference on Disaster Risk Reduction. The statement made the following key recommendations:
Risk is an inherent part of development and thus needs to be addressed in development plans and strategies;
In order to achieve resilient nations and communities in the context of sustainable development, it is crucial that disaster risk reduction is mainstreamed into development policies, plans, programs, projects, and financing;
Mainstreaming DRR into development has to be an integral part of the post-2015 framework for DRR and the sustainable development goals and should incorporate climate change adaptation;
The costs associated with mainstreaming should be recognized as savings against greater future losses due to disasters.
Key recommendations from the 11th RCC:
Risk assessments should consider psycho-social and disability information
Risk should be addressed in development plans and strategies
DRR should be mainstreamed into development policies, plans, programs, projects and financing
Mainstreaming DRR into development should also include climate change adaptation.