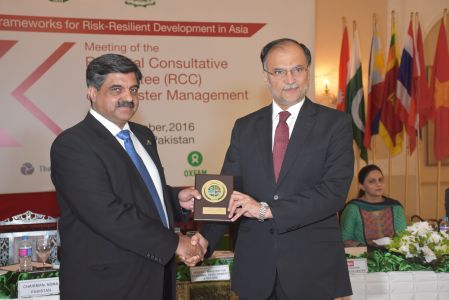 Established in 2000 as one of the first regional dialogue platforms to promote consultation and cooperation on reducing disaster risk, the Regional Consultative Committee (RCC) on Disaster Management promotes peer advocacy and the exchange of experiences in disaster risk reduction (DRR). Its Secretariat, Asian Disaster Preparedness Center (ADPC), initiated the committee to bring countries in the Asian region together to achieve common goals in DRR, explore ways to transform policies into practice, and promote regional cooperation. More specifically, the RCC's role is to provide a consultative mechanism for:
Guiding implementation of DRR in the Asian region;
Promoting cooperative DRR programs on a regional and sub-regional basis; and
Guiding the work of ADPC and its future directions.
The RCC played a pivotal role in supporting the implementation of the Hyogo Framework for Action (HFA) in Asia, and will continue this role with the Sendai Framework for Disaster Risk Reduction 2015–2030 (SFDRR). In addition, the RCC serves as an important forum for senior government officials in preparing for and following up on the outcomes of the Asian Ministerial Conferences on Disaster Risk Reduction (AMCDRR) and other significant regional events in the field.
Since 2000, there have been twelve meetings of the RCC. The 13th annual meeting will be held in Islamabad, Pakistan, following an invitation of the Government of Pakistan and organized in collaboration with the National Disaster Management Agency of Pakistan.
The German Federal Ministry of Economic Cooperation and Development (BMZ) supported the 12th RCC Meeting in Thimphu, Bhutan in 2015 and is contributing also to this year´s event through the Deutsche Gesellschaft für Internationale Zusammenarbeit (GIZ) GmbH within the framework of the Global Initiative on Disaster Risk Management (GIDRM) (www.gidrm.net).